How to Deal with Depression & Stress
DON'T PANIC BUT BE PREPARED
Coronavirus (COVID-19) is a new strain that was discovered in 2019.
Common signs of infection: respiratory symptoms, fever, cough, shortness of breath, and breathing difficulties.
severe cases: pneumonia, severe acute respiratory syndrome, kidney failure, and even death.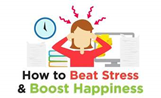 It is normal to show signs of anxiety, worry, stress about your own health, and the health of your loved ones after the outbreak of infectious disease, even while you're at low risk.
Limit your exposure to news stories on TV/radio/social media about COVID-19. coverage.
Keep your appetite and sleep patterns regular
Avoid the use and abuse of alcohol , tobacco, and other drugs.
Try to do self-care activities like exercising, create new hobbies, reading a book, watching movies, do things that soothe you .stay busy.
Communicate to your friends, family about the outbreak, share reliable health information.
keep up the conversation unrelated to the outbreak, thereby reminding to self that many important and positive things have not ceased to exist.
Parents should be reassuring their children that they are safe to keep up with their regular routines like learning/ fun activities
Learn about the outbreak and how you can protect yourself against the infection from a reliable source.
Use time off to relax in between hours of work – focus on positive parts of your life, like spending time with the family which was difficult earlier due to hectic schedule. take deep breaths, stretch, meditate, listen to music
Social distancing is basically to slow the spread of infection but one can always use technology to connect. Don't isolate, connect with family and friends.
Avoid catastrophic thinking, it will get better as time passes.
Stay in the present not to think about what is going to happen after a week or month(Avoid being apprehensive).
As a community, everyone is in this together never lose hope.
Positive Coping like humor – Laughing about the situation and that'' we're all in this together''.
If stress impedes your social, occupational, and interpersonal areas kindly reach out the mental health care professionals.
If the Known case of psychiatric illness should continue given treatment and be aware of new or worsening symptoms.