Vitamin D Deficiency
Vitamin D is one of many vitamins our bodies need to stay healthy and may prevent some cancers. It is produced in the body when the skin is exposed to sunlight. Vitamin D, along with calcium, helps build bones and keep bones strong and healthy. It also helps in reducing inflammation, aiding cell growth and boost immune function. Vitamin D deficiency means that you do not have enough vitamin D in your body. This deficiency and insufficiency is now a global public health problem affecting an estimated 1 billion people worldwide.
Vitamin D deficiency can be caused by specific medical conditions, such as Cystic fibrosis, Crohn's disease, celiac disease, weight loss surgeries, obesity, kidney and liver diseases.
Symptoms of Vitamin D Deficiency
Many people with vitamin D deficiency have no symptoms. However, the deficiency can cause the following issues.
Fatigue and muscle weakness
Frequent infections or illnesses
Bone and joint pain
Slow wound healing
Mood changes like depression
Fractures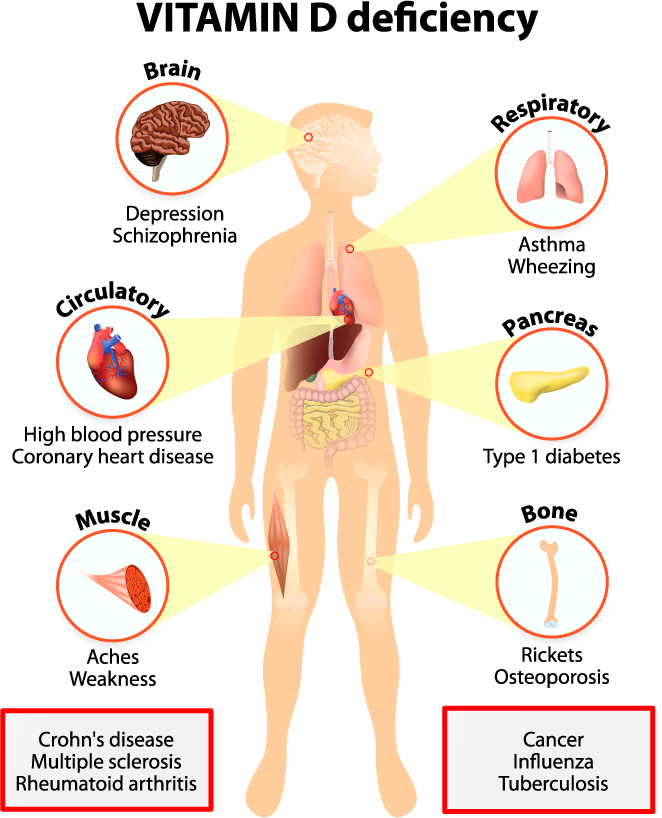 Vitamin D Deficiency Causes
In adults, vitamin D deficiency can cause osteomalacia and osteoporosis, which can result in falls, bone breaks, and poor healing following fractures.
Severe lack of vitamin D causes rickets, which shows up in children as incorrect growth patterns, weakness in muscles, pain in bones and deformities in joints. This is a very rare condition. However, children who are deficient in vitamin D can also have muscle weakness or sore and painful muscles. Symptoms of a vitamin D deficiency in children include:
irritability
lethargy
bone pain or fractures
deformities of the teeth
developmental delays
The amount of vitamin D that is needed to correct a deficiency will depend on the severity of the deficiency and your individual medical conditions. Vitamin D3 has been shown to be the best choice for supplements. Vitamin D2 supplements do not raise your levels the same amount as D3. Vitamin D supplements should be taken with a meal that contains fat. There are supplements that can be taken on a daily, weekly, or monthly basis. When you are deficient, it is recommended to have your blood tested after two to three months of taking the supplement to be sure that your levels are going up.