Coronavirus is a Global Monster
The Wuhan Virus
Novel Coronavirus (2019-nCoV)
The dawn of the new year is witnessing a major outbreak of the Coronavirus (nCoV type), identified as the cause of respiratory illness first detected in Wuhan, China. Many of the patients in Wuhan, China had a link to a large seafood and animal market, suggesting animal to human transmission of the virus.
The other similar outbreaks of Coronavirus were.
SARS (Severe Acute Respiratory Syndrome): emerged in Southern China in 2003, spread to 26 countries, led to 8,437 cases and 813 deaths.
The Middle East, Respiratory Syndrome (MERS) in Saudi Arabia 2012, spread to 27 countries, 2,494 confirmed cases and 858 deaths.
What is Coronavirus?
Coronavirus is a large RNA virus that can be divided into 4 types: alpha, beta, delta, and gamma, of which alpha and beta CoVs are known to infect humans.
Coronavirus Transmission
The current knowledge about the 2019-nCOV transmission is little but the virus can be correlated with similar coronaviruses. Coronaviruses are a large family of viruses that are common in many different species of animals, including camels, cattle, cats, and bats. Most often spread from person to person mainly by respiratory droplets during cough or sneezes from an infected person.
CoronaVirus Symptoms
Fever
Cough
Shortness of breath or difficulty breathing
Diarrhea
Pneumonia
In advanced cases, the patient can have very serious complications, which can lead to death, such as: severe pneumonia, renal (kidney) failure.
The symptoms can occur in as few as 2 days or as long as 14 days after exposure.
Coronavirus Prevention:
There is no vaccine available to prevent 2019-nCoV infection, at present. The best way to prevent infection is to avoid exposure to the virus.
The everyday practices to ward off the virus include
Frequent hands wash with soap and water for at least 20 seconds.
Use of alcohol-based sanitizer.
Do not touch your eyes, nose, and mouth with unwashed hands.
Avoid contact with people who are sick.
Stay indoors if you are sick.
Frequently touched objects and surfaces should be cleaned or disinfected.
Get quick medical help if you find any symptoms of viral infection.
Avoid contact with pets and other animals: Do not handle pets or other animals while sick, avoid contact with animals and wear a face mask if you are around animals or pets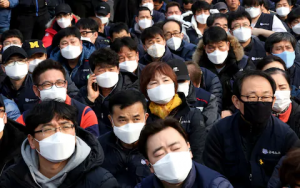 You can contact:
The government has set up a 24X7 helpline number to attend to queries about the novel coronavirus (nCov). "Anyone seeking information can call on the number 011-23978046".