LGBTQ Youth Mental Health Challenges
LGBTQ group includes Lesbian, Gay, Bisexual, Transgender, and Queer or Questioning individuals who despite their different orientations form an integral part of our community. Despite growing awareness about the LGBTQ, the challenges they face in day-to-day life are persistent and growing. Mental health problems such as depression, self-harm, alcohol, and drug abuse, and suicidal thoughts can affect anyone, but they're more common among people who are LGBTIQ. Being LGBTIQ+ doesn't cause these problems. But the societal discrimination, shame, internalized guilt, difficult experiences of coming out, and marginalization that LGBTIQ+ people go through can affect their mental health.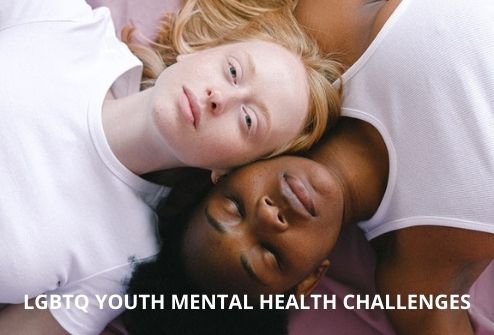 According to Reisner et al., 2015, Transgender youth are four times more likely than their non-transgender peers to experience depression. In a 2016-2017 survey from HRC, 28% of LGBTQ youth including 40% of transgender youth said they felt depressed most or all of the time during the previous 30 days, compared to only 12 percent of non-LGBTQ youth. According to the CDC's 2015 Youth Risk Behavior Survey, 60% of LGBQ youth reported being sad. LGBQ young people are more than twice as likely to feel suicidal, and over four times as likely to attempt suicide, compared to heterosexual youth according to Kann et al., 2016.
Basic issues like restroom access have a profound effect on transgender youth's well-being. For instance, one study showed that transgender students denied access to gender-appropriate facilities on their college campuses were 45 percent more likely to try to take their own lives according to Seelman et al., 2016.
The COVID-19 pandemic has further added to their misery due to financial constraints and insecurity about the future. Also, quarantining non-cooperating family members was very upsetting for some. According to Dawson et al., 2021, 56% of LGBTQ people reported job loss during the pandemic compared to 44% among non-LGBTQ. Around 74% of LGBTQ persons reported symptoms of depression and anxiety compared to 49% of the non-LGBTQ population.
Young adolescents are more likely to develop mental issues such as anxiety, and depression due to the following reasons:
Discovering and accepting their identity is still new for them.
The trauma of rejection by family or society can be damaging at the tender age
The ability to deal with discrimination or disrespect at school is a challenge
Mental Health Challenges:
Anxiety: The LGBTQ youth are twice more prone to have anxiety and depression mainly, due to the social stigma they have to face regularly. For some, unsupportive friends or family prove to be a constant threat to their safety thus, triggering their anxiety. The constant conflict with the parents or peers about their identity, struggle to fit in with the 'friends' group, and discrimination at the school heightens the stress level leading to depression and anxiety.
Substance Abuse: Lack of family support results in a majority of youth taking to substance abuse (alcohol or recreational drugs) to overcome negative emotional states which is a maladaptive coping strategy ultimately resulting in harmful addictions.
Eating disorders: Psychological eating to deal with emotional suffering leads to eating disorders that can prove very harmful, if left uncontrolled.
Lack of confidence or low self-esteem: Constant rejections or denials, being mocked at, and looked down upon can bring in feelings of worthlessness in LGBTQ youth.
Suicidal tendency: With lack of acceptance, insecurity about the future, feeling undesirable or unwanted, and economic challenges may drive one to suicide.
Fear of mistreatment: Lack of trust or fear of ill-treatment by the healthcare providers due to the stigma may prevent LGBTQ to consulting the doctors. They may try to self-medicate thus, worsening the condition.
Remedial Measures:
Patient and active listening to LGBTQ people without being judgmental
Accepting them for "who they are"
Ensure emotional support
Spread awareness
Appropriate and sensitive psychological support for LGBTQ as well as their family members and friends.
Protect their rights and promote equality
Be respectful to them
LGBTQ individuals are as human as the rest of the population and deserve to be treated with equal respect